What' s new with Box Tracker
Up coming changes
Sep 14, 2022
You may know that Cairn has just completed our annual summer conference where we bring our entire team together for 2 days of food, fun, and brainstorming. This year the team was asked to bring their ideas for platform improvements. The result is 3 pages of ideas that will enhance your experience and help you Make More, Pay less and Gain Control. Many of these ideas come from you in the form of feed back from support interactions. Others explore new ways to use technology to make you a stronger competitor in the market. We are excited to bring you many new features over the coming year.
---
Box Tracker is coming to Waste Expo!
Feb 7, 2020
The show is in New Orleans this year and we'll be there talking to waste haulers. Stop by and see how Box Tracker can transform your small to mid-sized dumpster company into a lean and responsive organization able to compete effectively with the larger players in the market.
The show runs from May 5 – 7, and we'll be in booth # 3977. We look forward to seeing you in New Orleans!
---
Creating An Operating System For A Dumpster Rental Franchise
Feb 26, 2018
Bin There Dump That is the only dumpster franchise in North America. With 140+ franchise territories across the continent, Cairn Applications created a comprehensive operating system for their entire franchise network; Bin Tracker.
Bin Tracker Is More Than A Dumpster Inventory Management System For Bin There Dump That
We started working with a Bin There Dump That franchisee in Central New York back in 2014 to help implement Box Tracker into their operations. Quickly thereafter, the Franchise Support Team grew interest in Box Tracker; however, they needed an operating system that would integrate into the operations of all their franchisees across North America. Bin Tracker was created for the Bin There Dump That franchise network.
Creating a System for a Franchise Network
Up until Bin Tracker, the company's franchisees were conducting container inventory the old fashioned way; pen and paper. Bin Tracker quickly provided the franchisees with a much more efficient way of tracking their containers. Bin Tracker started as a pilot project with six franchise locations in the United States. We worked on implementing great suggestions from these franchisees that would help tailor the system to the Bin There Dump That franchise model.
After a successful pilot project, we officially unveiled Bin Tracker at the BTDT annual conference in 2015. Bin Tracker was adopted quickly by over 60% of the network. Bin Tracker training was implemented into the franchise's new operators training week.
Over time, Bin Tracker evolved to become more than a system to manage dumpsters. For Bin There Dump That Franchise operators, it evolved into a small business operations suite that could manage inventory, communicate with customers, and even guide prospects down the sales funnel with built-in CRM functionality.
How Bin Tracker Guides the Bin There Dump That Franchise Support Team
For the Support Team, Bin Tracker meant that they had data at their fingertips that they weren't obtaining before, which ultimately would help their support model determine benchmarking and key performance indicators. Through Bin Tracker, the Support Team could determine the best national contractors to leverage throughout the system.
Where Bin Tracker is Going in 2018 for Bin There Dump That
For the franchise operators, Bin Tracker is receiving a major overhaul, which, for the customer, will amount to improved and streamlined customer service. Invoicing and billing on the franchisee level will be reduced to a fraction of the time, saving the franchises a great amount of time they can recommit to serving the customer the ultimate dumpster rental experience across North America.
For greater hands-on training, Angela Moser now travels to the Bin There Dump That home office in Toronto to help new franchisees navigate the Bin Tracker system. This has resulted in a greater initial understanding of the operating system, which ultimately means less overall training to the new franchisee.
To Bin There Dump That, Bin Tracker has become the lifeblood of the franchise network from the Franchise Support Team to the individual franchise location. The initial goal of the franchise when it decided to adopt Bin Tracker into their system was to allow franchise operators to better manage their dumpster inventory, become more profitable and provide even better customer service levels. In 2018, Bin Tracker will allow Bin There Dump That to achieve all of this and then some!
---
My First Wooden Dumpster
Dec 30, 2017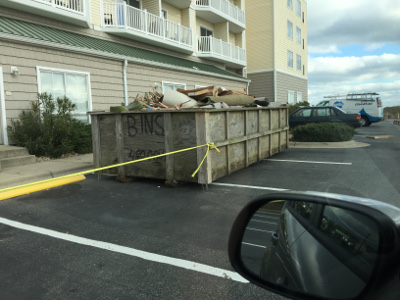 I took my family to the Carolinas for the holidays to excape the frozen North East. One stop was Kitty Hawk, NC. On our way out of town, there it was. My very first wooden dumpster.
Thank you Kitty Hawk!
---
How Box Tracker can benefit your customers
May 10, 2016
Box Tracker is a state-of-the-art cloud computing solution that helps small and mid-sized dumpster companies compete directly with their larger regional and national competitors. We focus on the following key business processes to enable you to provide world class service to your customers.
Information
Box Tracker provides a top down view of your business in real time. Our mapping capability shows your work orders, containers, drivers, and traffic conditions all in a single view. Custom map filters help you find the right container in proximity to your customers and send the closest driver to respond quickly to their needs. Having this information at your finger tips decreases response time while simultaneously increasing turn over and profitability.
Communication
Keeping your customer informed while you service their needs allows them to plan their day. Automating those communications puts a professional face on them while reducing your work load. Box Tracker uses email and text messages to do just that.
Email
Box Tracker can email your clients with reservation confirmations that inform the customer of the services you are performing, and when to expect you. Reminder emails can remind them to call for pick up and avoid costly rental fees.
Text Messages
Text messages can inform your drivers about urgent changes in their schedules, or they can be used to notify your clients when the drivers are on their way. The texting capability, combined with our on board mapping, can help route drivers around traffic situations that might otherwise make them late to the customer's job site.
Execution
Predictability
Features like service schedules for regular pick up add predictability to your client's project budget.
Simplicity
Box Tracker's intuitive design provides employees in each role powerful yet simple tools to do their jobs well. Simplifying the process means there will be fewer mistakes.
Continuous platform enhancement
The Box Tracker project is continuously being developed to provide better features for our clients. For your clients this means that industry-specific best practices are constantly being added to the application. Box Tracker and its sister application, Bin Tracker, are now in use by over 80 waste haulers throughout the United States and Canada. These haulers provide us a steady stream of new ideas to help better serve our customers and yours.
---
How will Box Tracker impact my data plan?
Jan 25, 2016
We are frequently asked during the sales process about the impact of running a mobile app on a driver's data plan.
If you have been through a demonstration of the application, you have seen for yourself that it is very fast. This is achieved not only by caching, but also by limiting requests to and from the server to only the bare necessities. By minimizing the amount of data going back and forth, we maximize the application's performance. By happy coincidence, this also minimizes our footprint on your data plan.
The illustration below shows the ajax traffic of the application during a typical transaction, in this case picking up a container. The whole process consumes 5.749 KB of data. The driver would have to perform this transaction 174 times to consume 1 MB of data and 174,000 times to have a 1 GB impact on the data plan.
The answer to the original question is that Box Tracker will have almost no impact on your data plan.

---
GPS Tracking For Dumpsters, Job Sites and Drivers
Jan 15, 2016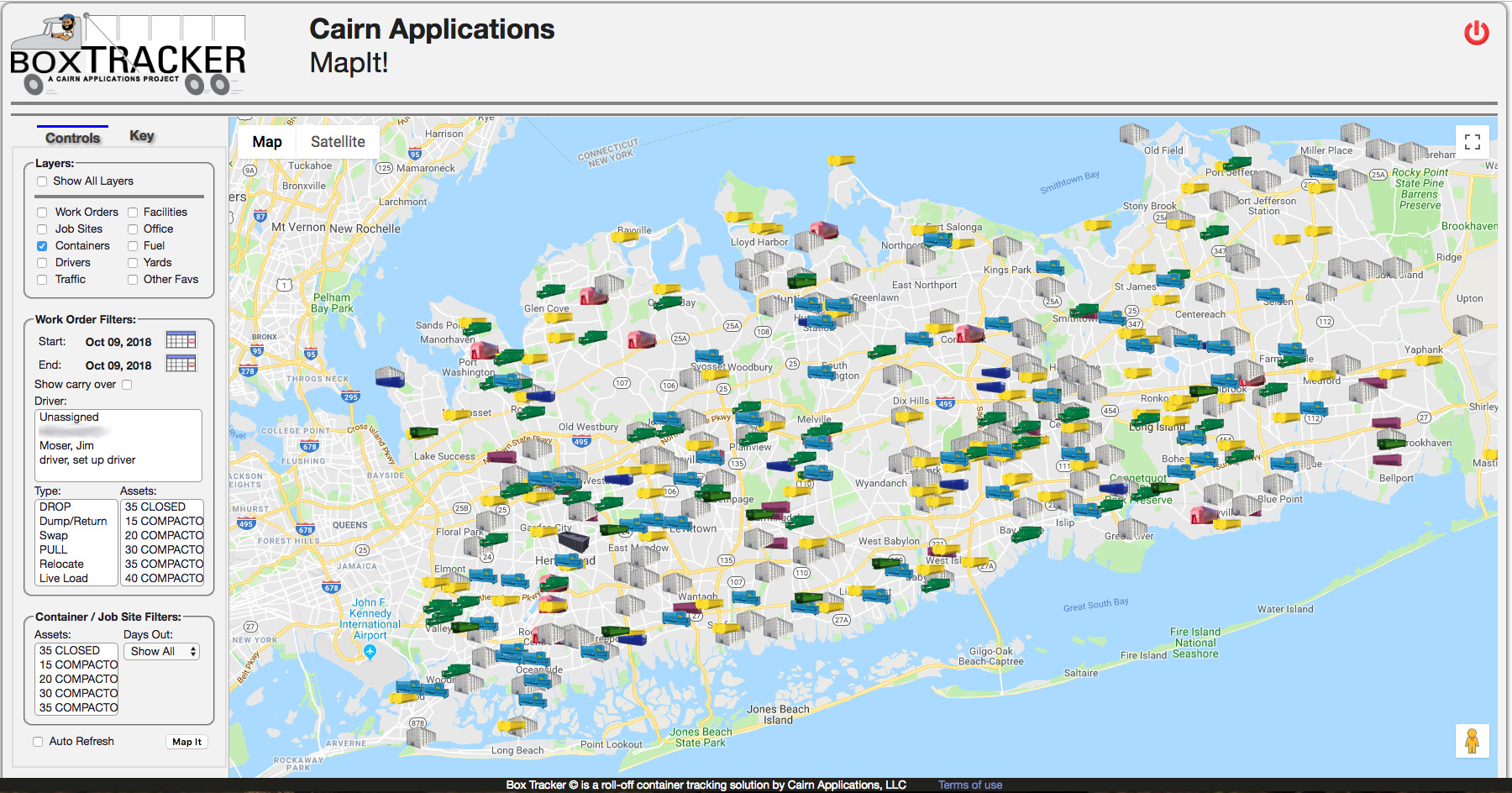 Box Tracker has a brand new mapping interface called MapIt! Our new Google Maps integration lets you display drivers, work orders, containers, and local traffic on a single map. Use the filters to drill into specific asset classes, order types, drivers, etc.
Read more about our our new mapping interface.
---
Web Site vs App
Sep 28, 2015
We are often asked about an app to download from the various app stores. Conventional wisdom has come to accept that the only way to do mobile software is through an installed app. In fact, many of the apps we use are simply portraying web site data on an installed application.
Box Track is a true born on the cloud application. The data lives in the cloud and the functionality is delivered via a web browser. Why, you might ask, would we choose to deliver the application via a web site instead of the app store?
For one thing, the web is Platform Agnostic. Let's think about the various devices that we encounter on a daily basis: desk top computers, laptop computers, tablets, smart phones. How many people do you know who own an iPad, a Droid phone, and Windows PC or laptop? My guess would be a lot. Software sold through the app stores targets the specific device and the operating system it runs.
All of those devices, however, have an internet connection and a web browser. By delivering Box Tracker via a web site, the application behaves consistantly from device to device, operating system to operating system. In addition, you are assured of being on the latest, greatest version without having to run updates or buy upgrades.
---